The following article summarizes key points surrounding unofficial M300RTK support.
Important Notes:
Support is unofficial and drone is not actively tested by Dronelink
Below learn about the limited support for the M300RTK, payloads, and how to install the Dronelink app on supported devices.
A Professional Growth plan is required for this drone.
Some features require using the Classic Flight Dashboard. Learn how to switch to the Classic Dashboard.
What devices are supported?
Unofficial Support:
M300RTK Smart Controller connected to iOS mobile devices (recommended for most features and best user experience)



Not Tested / Beta Testing Open:
Not Supported:
Android mobile devices with M300RTK Smart Controller

Installing and running Dronelink on the M300RTK Smart Controller (a low performance device)
What M300RTK Payloads are Supported?
Supported:
H20, H20T, XT2, Z30 with limited command support (

see section below

)

Dual Downward Gimbals can be triggered simultaneously and with separate gimbal angles

Upward gimbal LIMITED support (currently restricted to 0-30 degrees camera angle, contact us about your use case)
Not-Supported: P1, L1 and other 3rd party payloads
Camera commands and settings limitations
Support for camera commands and settings depends on whether you are using the Classic or Modern Flight Dashboard. All non-thermal camera settings and commands are supported in the Modern Flight Dashboard. Learn how to switch between the Classic and Modern Dashboard.
Not Supported on Classic Dashboard:
Spot metering and focus
Changing camera settings
What thermal features are supported?
Supported:
Triggering Thermal Camera
Not Supported:
Thermal menus, controls and indicators
Sending thermal camera commands
Configure thermal camera settings in the DJI App before autonomous flight.
Managing Video Feeds for Hybrid Payloads and Dual Gimbals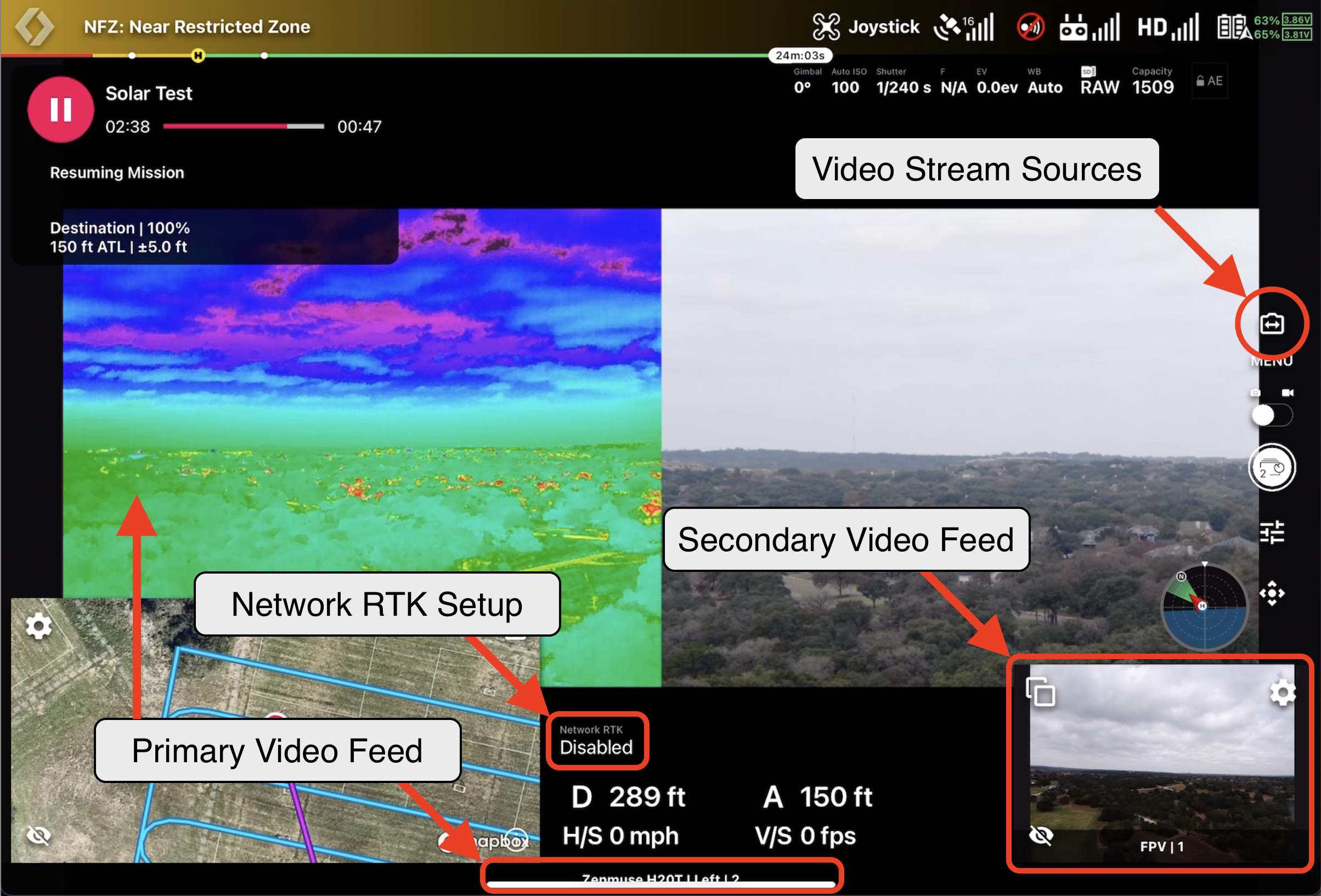 Configure Network RTK - with
Smart Controller connected to iOS mobile device
Select the Network RTK button on the Flight Dashboard to open the RTK setup dialog
This features requires using the Classic Dashboard.
Learn How to Configure Network RTK
Configure Network RTK - with
RC Plus (Beta)
With Dronelink DJI installed on the RC Plus, the RTK setup process does not require using the Classic Dashboard as mentioned above and is supported within the Modern Flight Dashboard.
This is in beta and has not been tested.
Learn how to setup RTK on the RC Plus here.
Updated Mission Planning Camera Specs for H20 and H20T
New camera specs have been added for the H20 series.
Learn about how to Set Camera Specs During Mission Planning to achieve correct overlaps.