The following article summarizes key points surrounding M300RTK support and links to relevant support articles.
Table of Contents:
Most features require the Classic Flight Dashboard. Learn how to switch to the Classic Dashboard.
What devices support the M300RTK?
iOS mobile devices are recommended for best user experience




Android mobile devices are NOT supported

DJI Remote Controller with Screen / DJI Monitors are NOT supported (installation is possible on Enterprise Smart Controllers, performance is very poor).
What M300RTK Payloads are Supported?
H20, H20T, XT2, Z30 are supported with limited camera commands (see section below)
P1 and L1 are NOT supported (users may attempt to test functionality and post findings to community forums)
Dual Downward Gimbals can be triggered simultaneously and with separate gimbal angles

Upward gimbal LIMITED support (currently restricted to 0-30 degrees camera angle)
Updated Camera Specs for H20 and H20T
New camera specs have been added for the H20 series.
Learn about how to Set Camera Specs During Mission Planning to achieve correct overlaps.

Limited Camera Commands and Settings Support
A major current limitation of M300RTK support is limited support of automated camera commands and camera settings, due to issues within the DJI SDK.
Commanding the gimbal and starting / stopping the camera is supported
Exposure and exposure step commands and controls are supported
Formatting the SD card is supported
Spot metering and focus are NOT supported
Changing camera settings is NOT supported
All other camera commands are NOT supported (ISO, f-stop, zoom...)

Dronelink recommends configuring the camera in DJI Pilot on the Smart Controller and then connecting the Dronelink app. Camera configuration needs to be performed before every flight, including battery swaps within the same mission; before engaging an automated flight in the Dronelink mobile app. Any custom camera settings may be reset once the drone is power cycled.
Video Preview for Hybrid Payloads and Dual Gimbals
The new Flight Dashboard for the M300RTK with a H20T payload has the following controls and indicators that are covered in linked articles.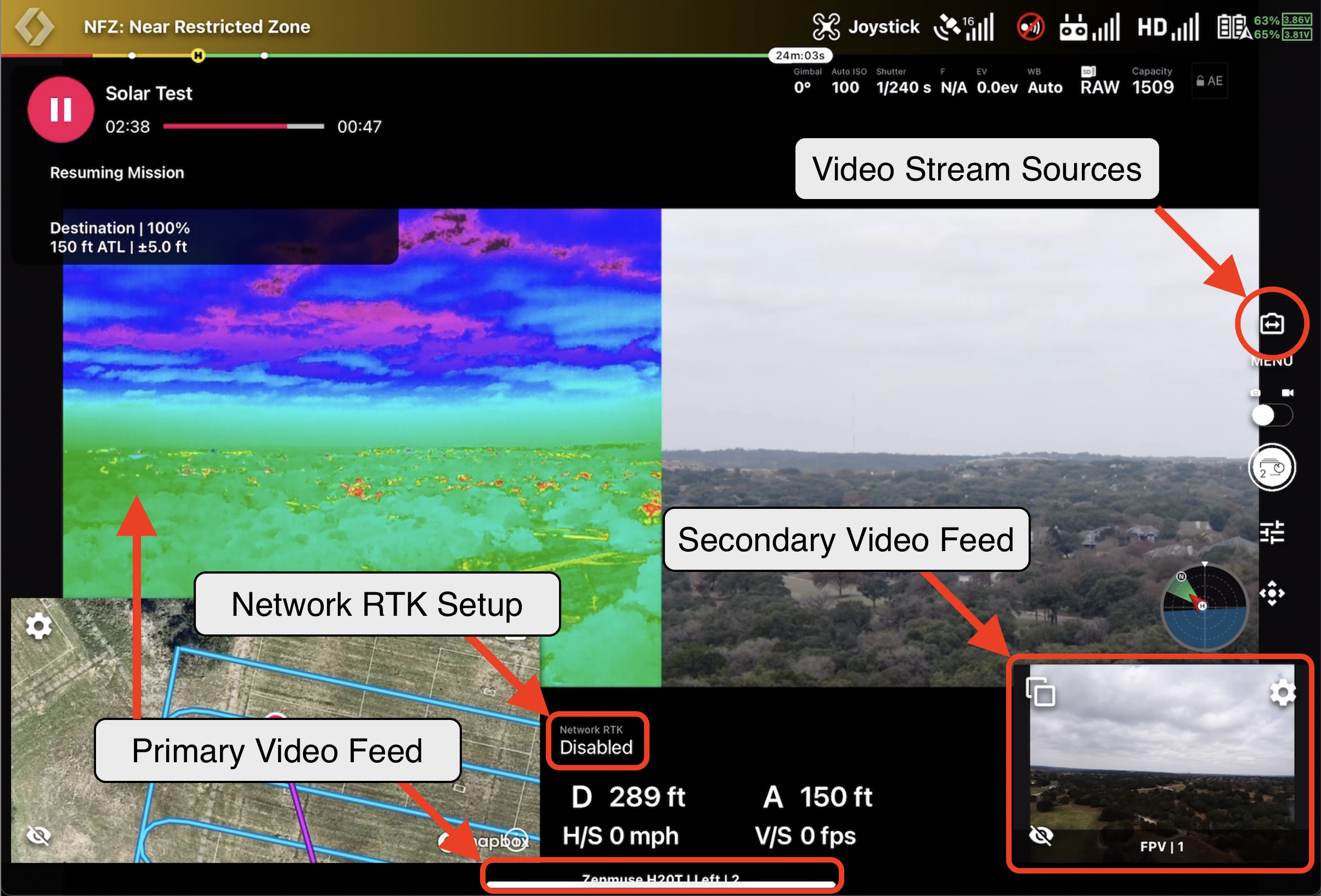 Network RTK Setup
Select the Network RTK button on the Flight Dashboard to open the RTK setup dialog
Learn How to Configure Network RTK