The Map mission component is used to capture data for creating orthomosaics / orthophotos / 3D models. Fly a mapping pattern that automatically captures photos within an area set by multiple boundary points. Configure settings such as drone camera, altitude, speed, image overlaps, direction, pattern, gimbal pitch and much more.
There are multiple mapping plan levels (Basic, Advanced, and Expert). If your plan type does not support the feature you need, you will be prompted to upgrade.
This article covers some features included in Basic Mapping.
See these articles to learn more about: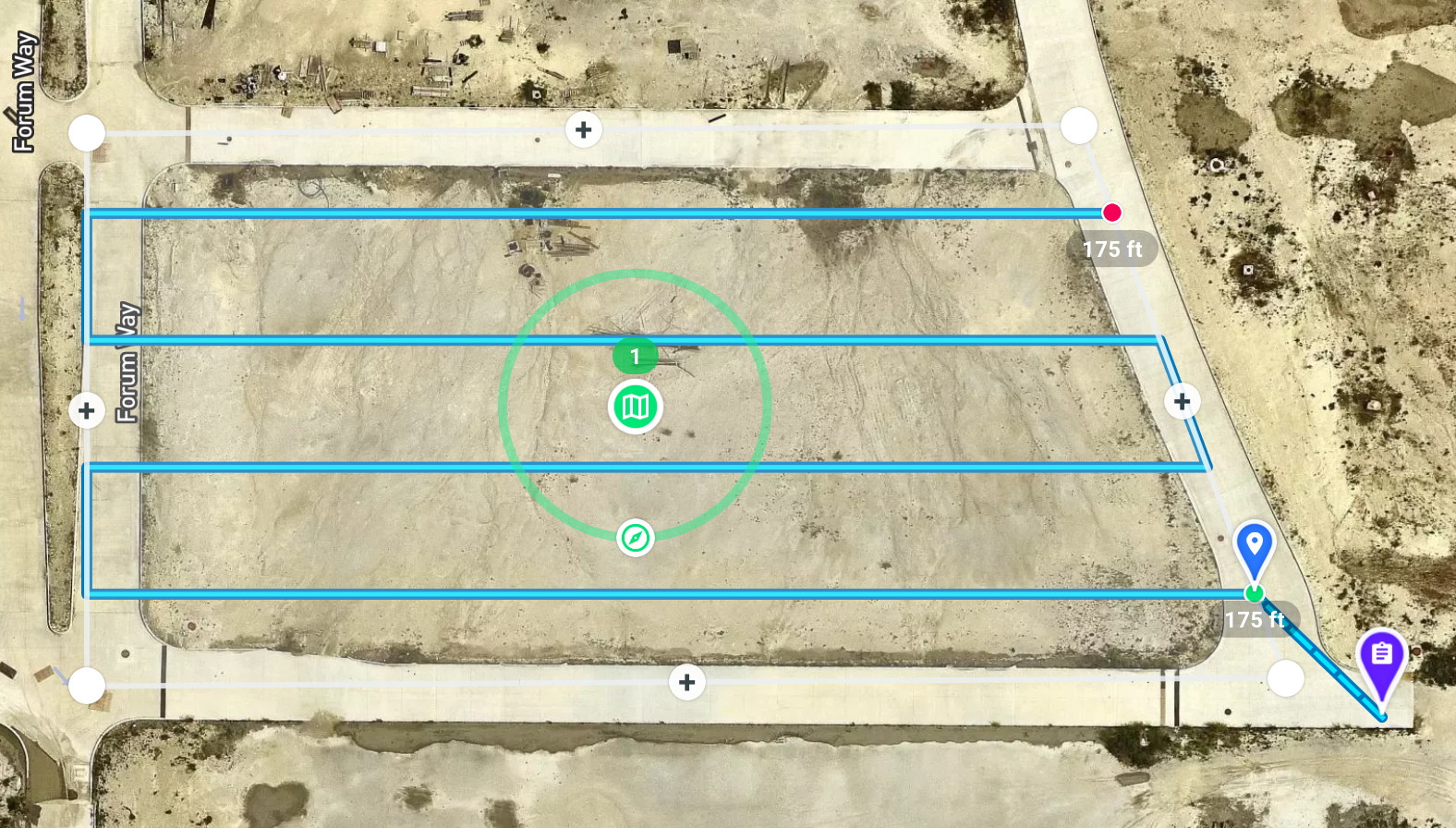 Step 1 - Add a Map from the 'Create Menu'
Adding a map from the Create Menu places the map mission template at a location you select.
After selecting Map, Select a location to place it.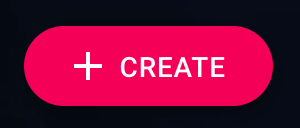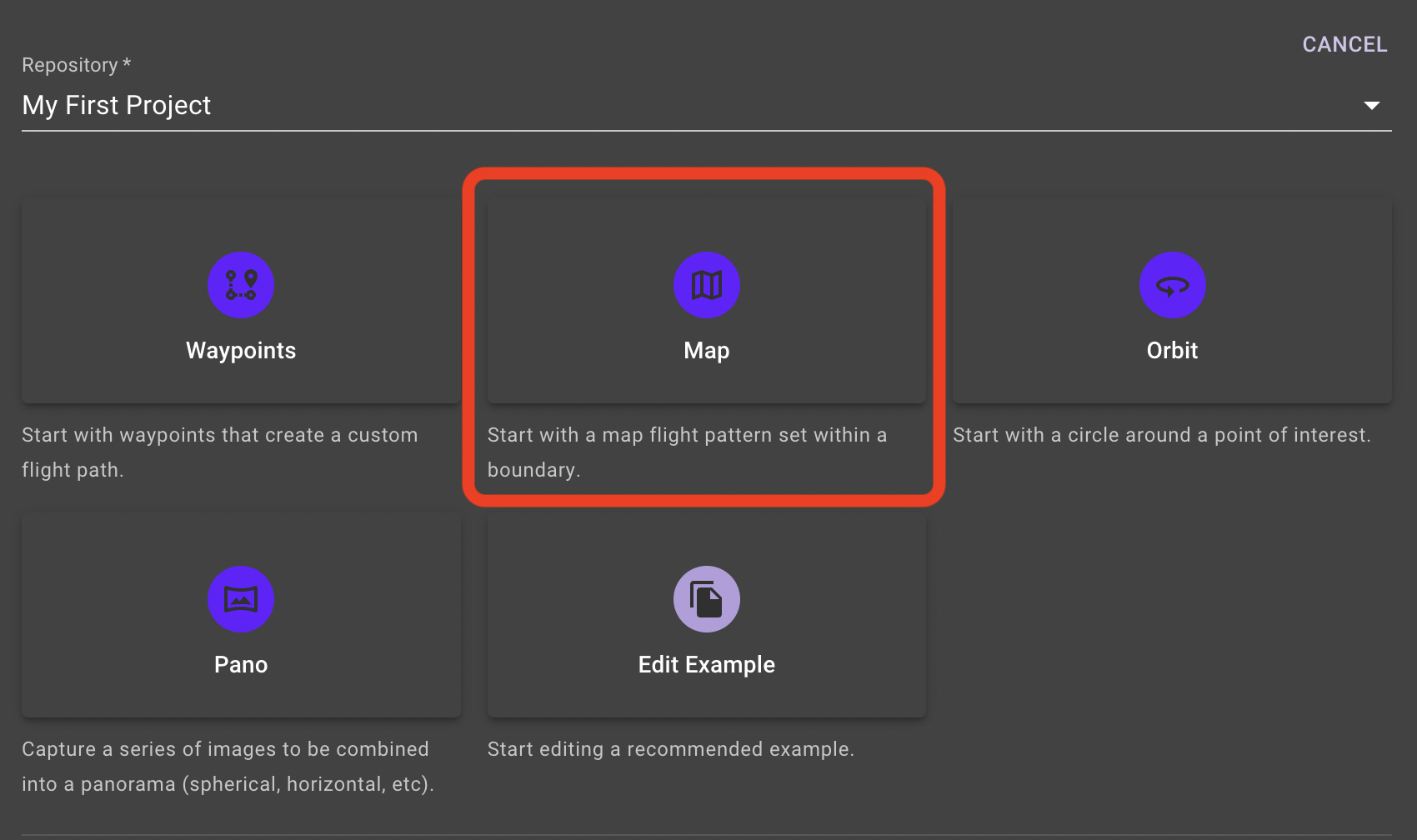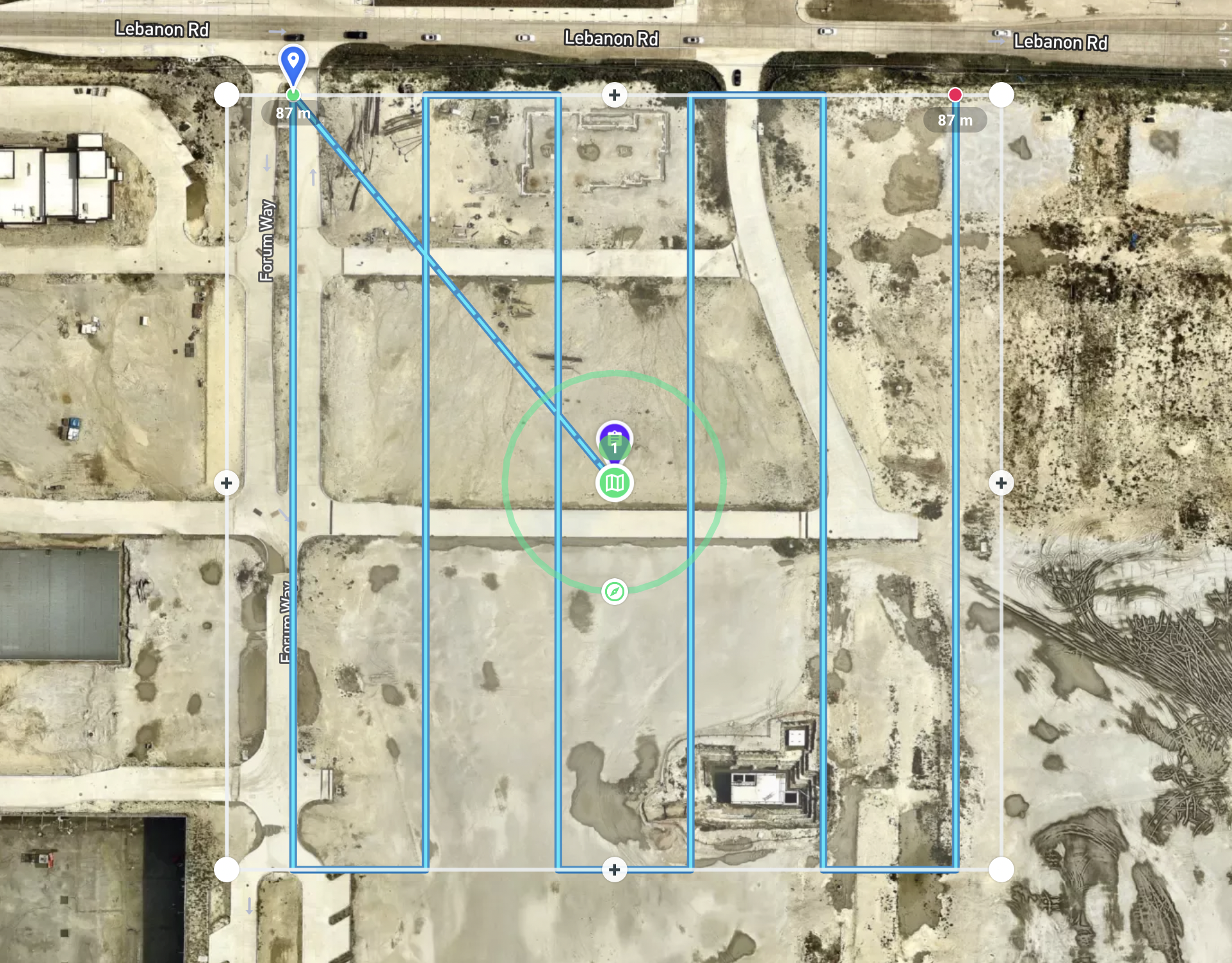 The default settings when adding a Map are:
Camera: Mini 2
Size: 4.6ha (11.5ac)
Altitude: 87m (285ft)
Speed: 32 km/h (20mph)
Front Overlap: 75%
Side Overlap: 70%
Step 1.1 - Add a Map from the 'Add Menu'
Add a Map from the Add Menu in an existing mission plan.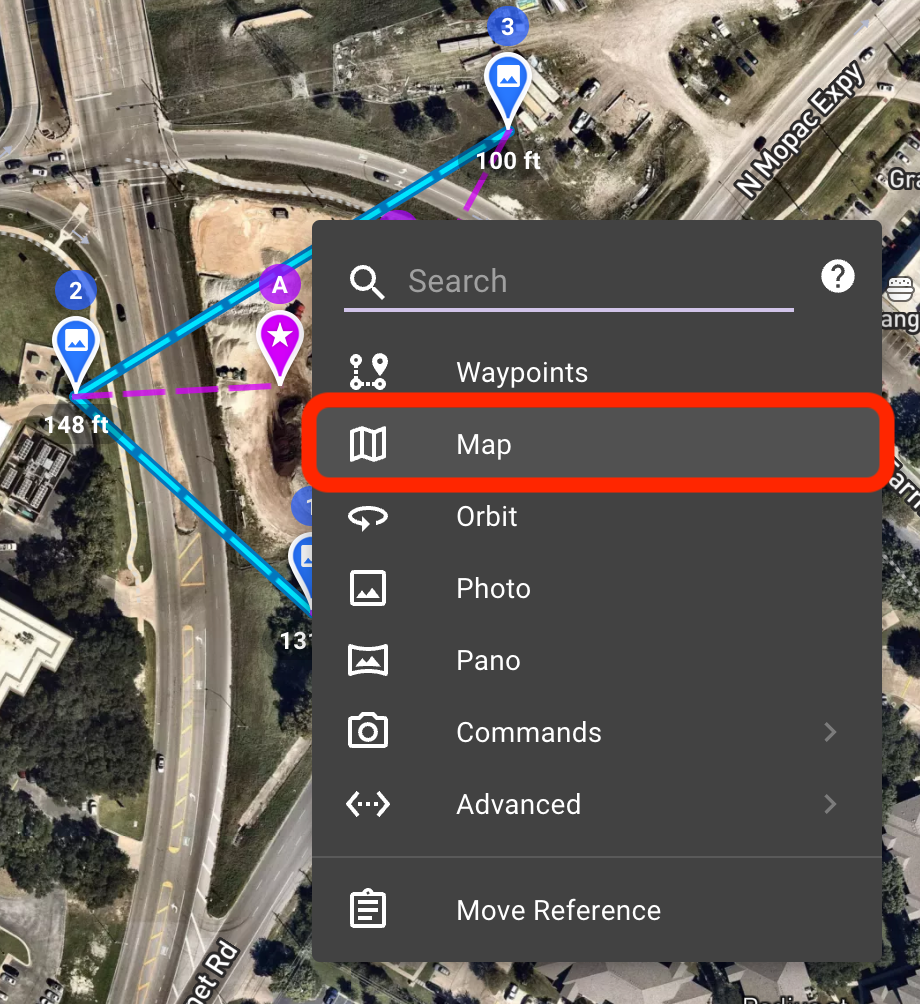 Step 2 - Set the Map Boundary Area
Move the existing boundary points, or add new ones to define the mapping area.
Click the + to add new boundary points.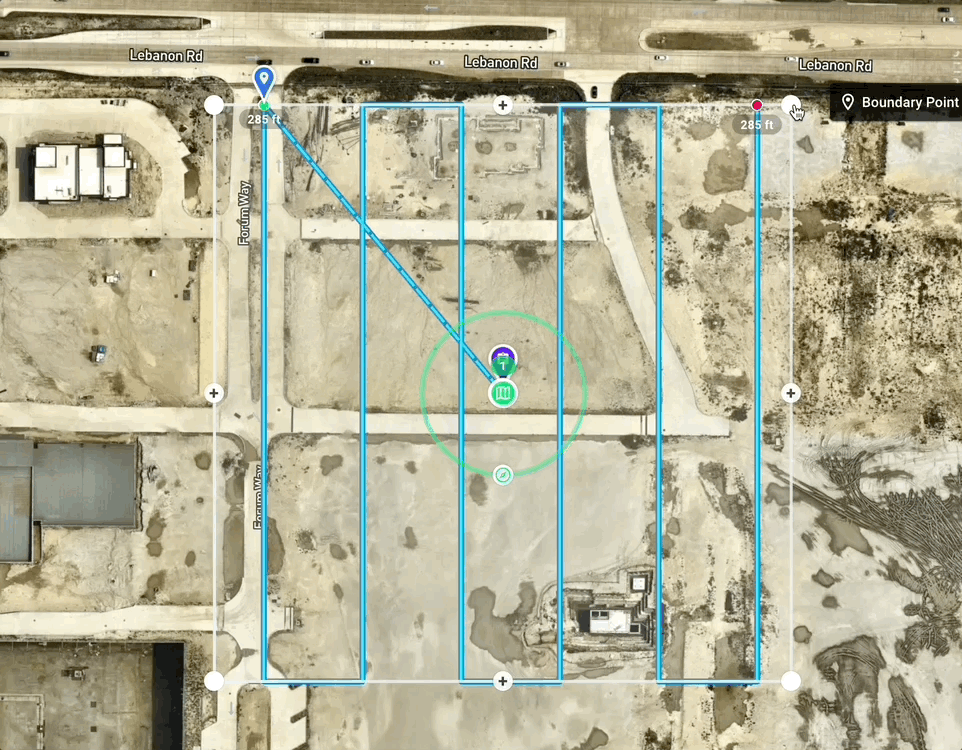 Step 3 - Change Mapping Direction
Adjust the map direction by dragging the Rotate Flight Direction control.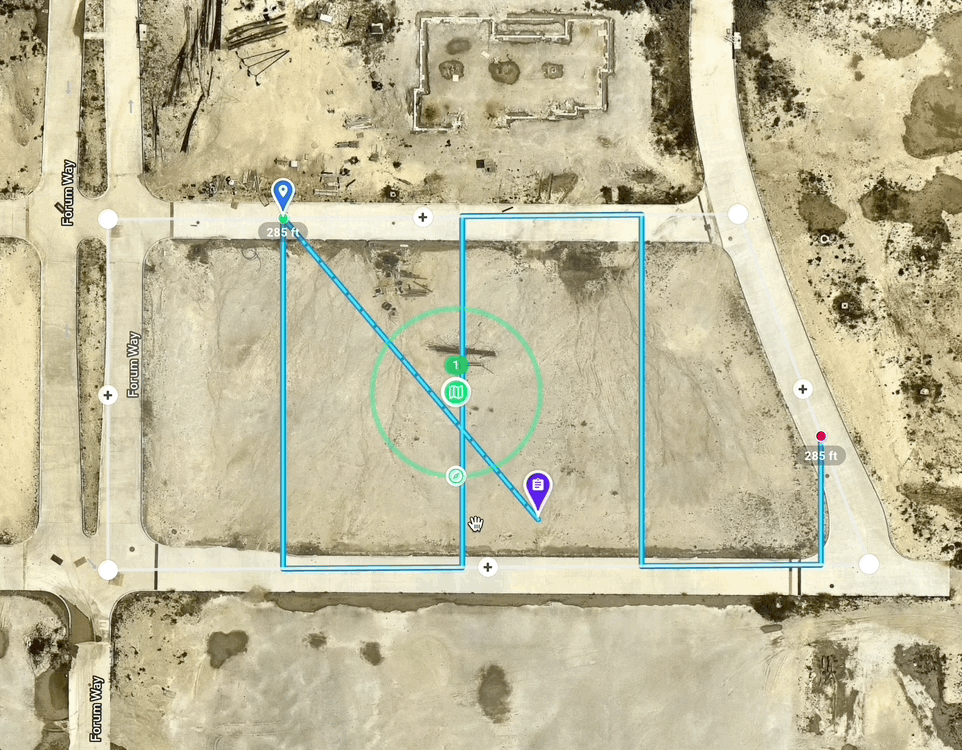 Step 4 - Open Settings to Set Camera and Altitude
Open the Map Settings by selecting the map mission component on the map or Mission Component List. Set the drone camera and altitude. The drone camera is important to ensure your ground sample distance and overlaps are correct.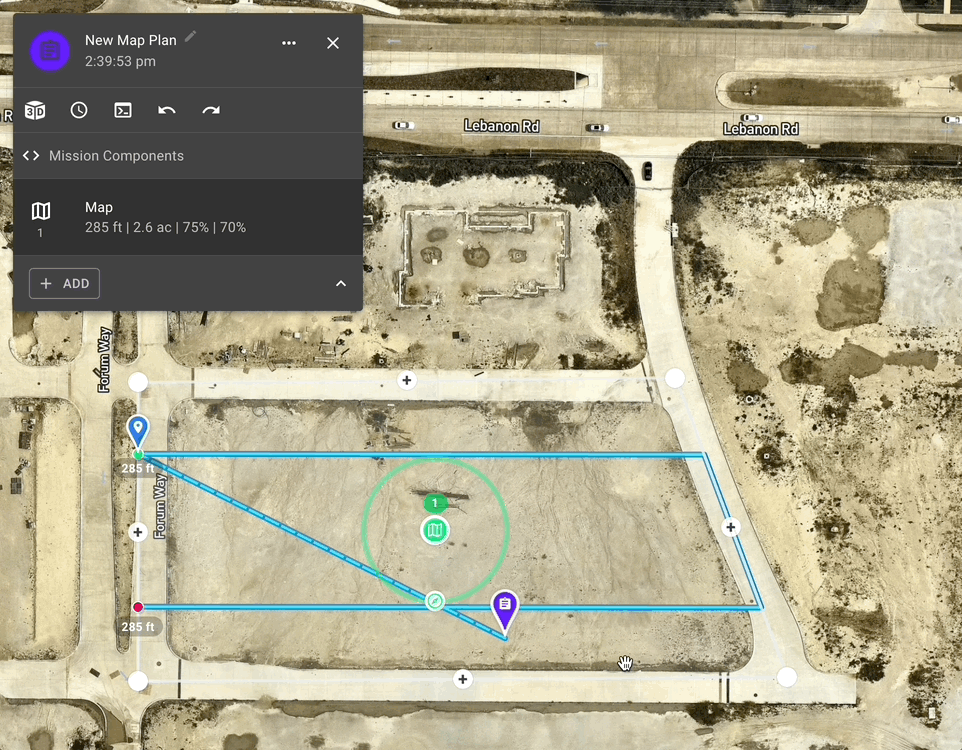 Step 5 - Change Map Start Location
Drag the Map Start pin to the location you want the mapping mission to start.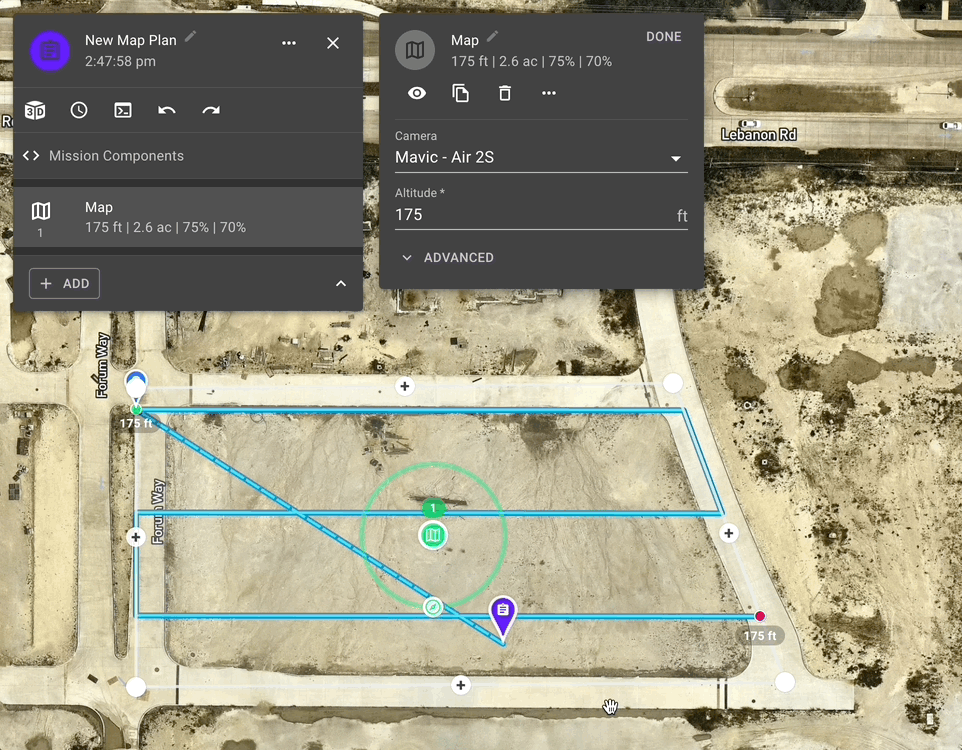 Step 6 - Change Overlaps and Flight Speed
Expand the Advanced Settings to change the front and side overlap, and flight speed.
In Basic Mapping plans, it is also possible to change the Capture Mode from Photo to Video, or None.
Advanced Mapping plans are required to change pattern and gimbal pitch. Learn More.
Expert Mapping plans are required to change Photo Type, Drone Heading and Other Expert Mode Settings. Learn More.