Dronelink has 2 categories of plans: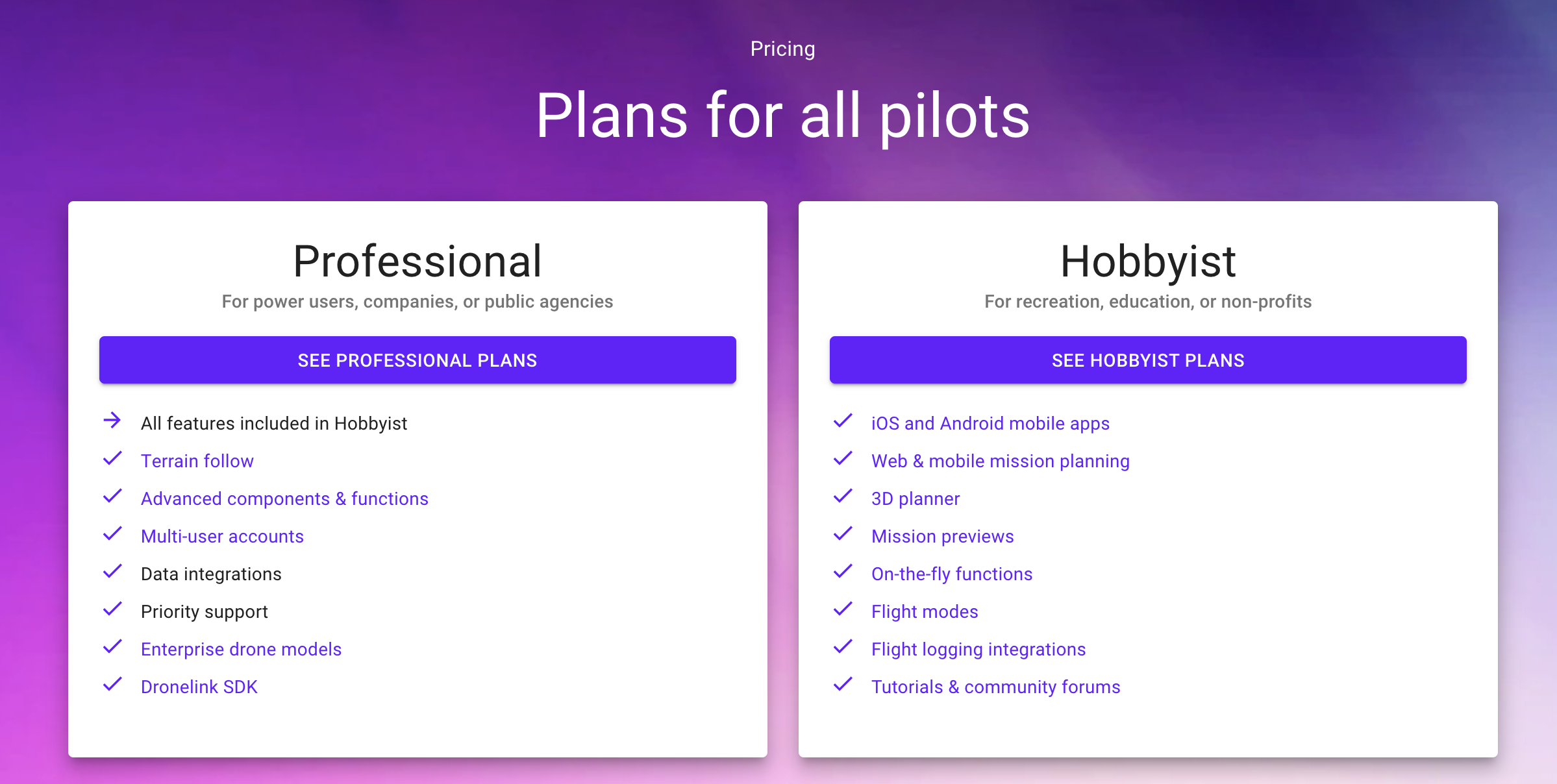 What is the difference between Hobbyist and Professional?
Beyond differences in features and pricing, a major difference is what the plans can be used for.
Hobbyist plans can only be used for fun, recreation, education, and non-profit work.
Hobbyist example; flying an orbit around a church or using follow mode while skiing
Professional plans allow for commercial usage.
Professional example; flying a map or video of a property to share with colleagues at work, or providing services as a drone service provider
Using a Hobbyist plan for any commercial or paid use is a violation of our license agreement and may result in the suspension of an account.
What is Commercial or Paid Usage?
Any use that supports any business or government organizations.
If you are not getting paid directly for using Dronelink, but are still using Dronelink to collect data that is used within a business or government organization, it still qualifies as commercial usage.
What can I use my Hobbyist Plan for?
A single user is allowed to use a Hobbyist plan for the following:
Fun / Recreation: flying missions for personal use
Education: flying missions as students, researchers, or teachers as part of an educational institution
Non-profit: flying missions for a non-profit organization (ex. World Food Program)
What happens if I start flying Commercial Missions with by Hobbyist Account?
Your account will be suspended and you will loose access.
Please respect our license agreement and if you begin to use Dronelink commercially, subscribe to a Professional plan. You can have a Hobbyist and Professional plan associated with 1 user profile and easily switch between the 2 plan types.
If you have transitioned to flying commercial use, and want to merge your Hobbyist missions and flight history with a Business plan, please contact support@dronelink.com