This article is about how to install Dronelink on the DJI Smart Controller.
There are more steps involved then just downloading the APK. Read on to learn more.
The dronelink.com/download page may have issues loading on the Smart Controller, you will need to open this support article on the Smart Controller browser, or the APK link below, or use the SD card method.
The Smart Controller is only compatible with the following drones:
Phantom 4 Pro V2.0
Mini 2
Air 2S, Air 2
Mavic 2 Pro, Mavic 2 Zoom
Mavic 2 Enterprise Series, Mavic 2 Enterprise Advanced
Step 1 - Download and Install
Select the link or image below from the remote controller web browser to download and install Dronelink.
Alternatively, download the APK file to an SD card, and open on your remote controller to install.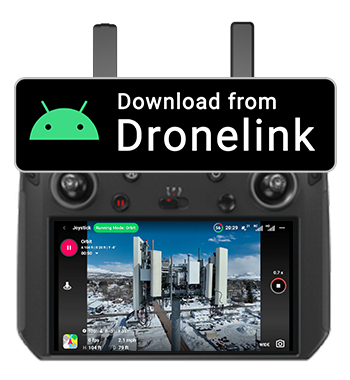 Step 1.1 - Accept ALL permissions during installation
You must accept all the permissions that the app asks for, otherwise the app will not function. See this article for more information.
Step 2 - Install Additional Required APKs
This device requires installing Google Play Services (Download APK) and Google Play Store (Download APK). Do not try to install Dronelink from the Google Play Store after installing the Google Play APK - It will not work!
Also, Google Play Services may show display error notifications periodically.
Tap Settings > Apps > Swipe Left (to view all apps) > Google Play Services > Force Stop.
Additional Details
Performance
This device is a low performance, outdated Android device, which may cause performance limitations for Dronelink. For the best user experience, consider upgrading to a more capable and modern device that has been released within the last two years.