We'll cover how to navigate to public missions and more in Dronelink.
You can discover missions plans, components and functions in public repositories.
After you are done exploring, learn to copy missions to new locations within your account here.
Repository: A folder with access permissions. Dronelink repositories are used to organize mission plans, components and more. Repositories are set to public access by default, making the plans within them public.
Step 1 - Open Public Repositories Webpage
Access Without an Account
It's possible to explore public missions without an account.
Follow this link or click on the screenshot below to open public repositories page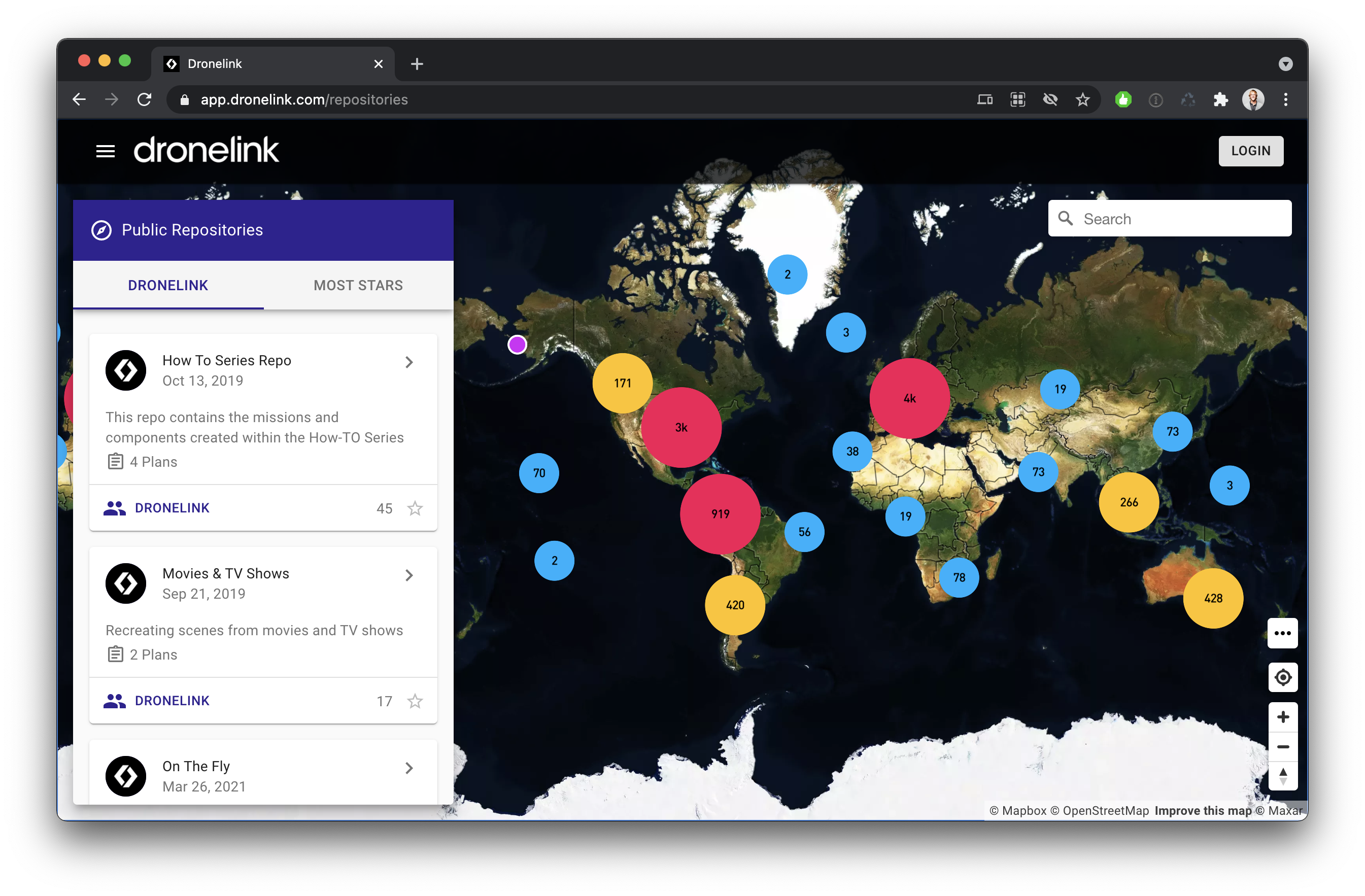 Access Through your Account
On your account landing page, Select Explore Public Repositories

You can also Select the hamburger menu to the left of the Dronelink logo and Select Public Repositories from the list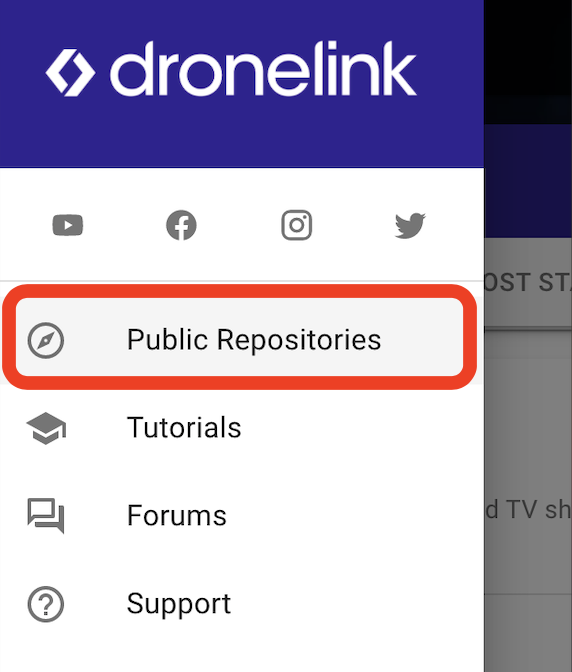 Step 2 - Open a Public Repository
Select a Repository from Dronelink or Filter by Most Stars, in this case we will scroll down and open Examples from Dronelink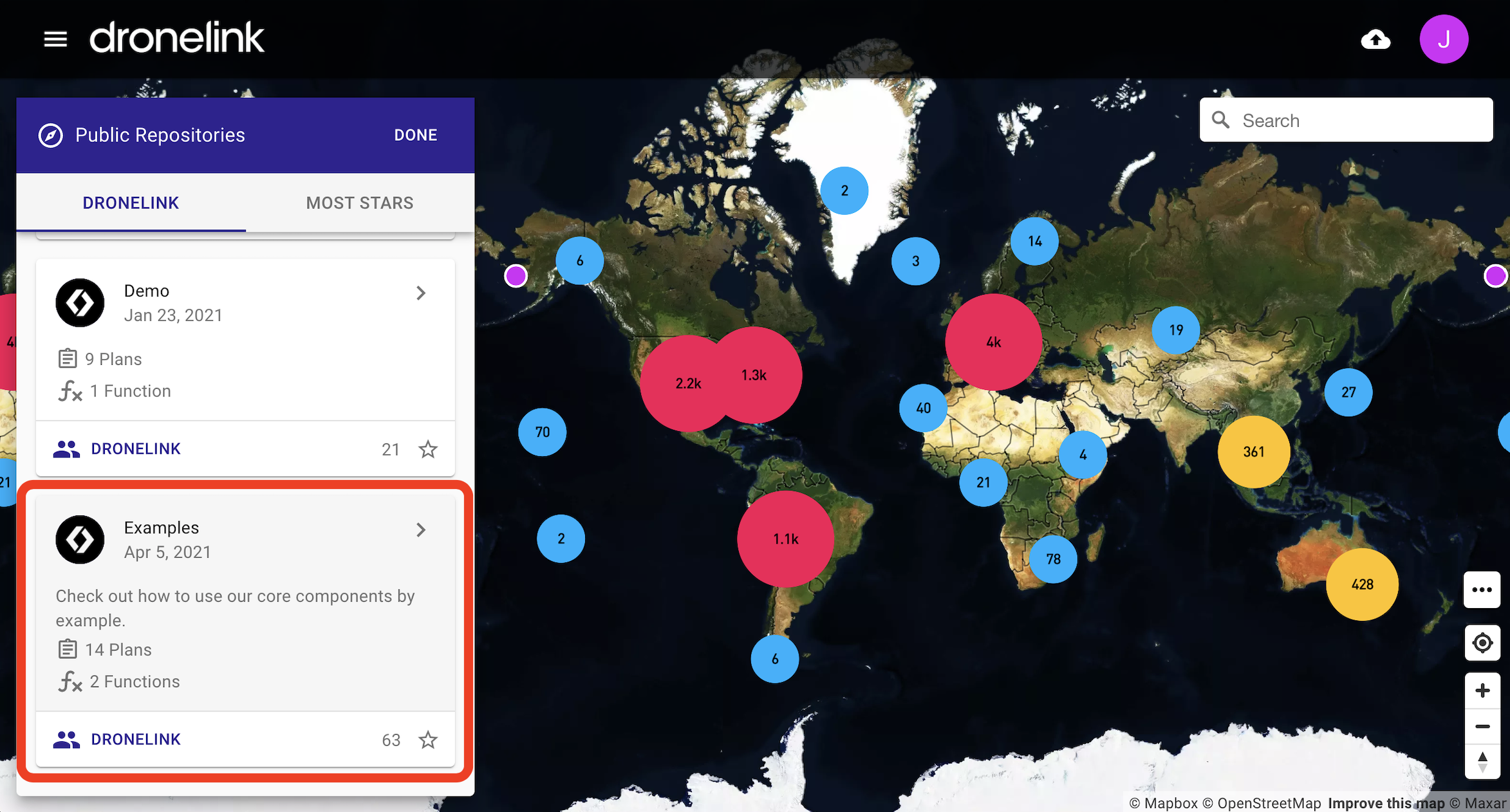 Step 3 - Open a Mission Plan
Select a Plan from the list on the left, or select a Purple pin from the map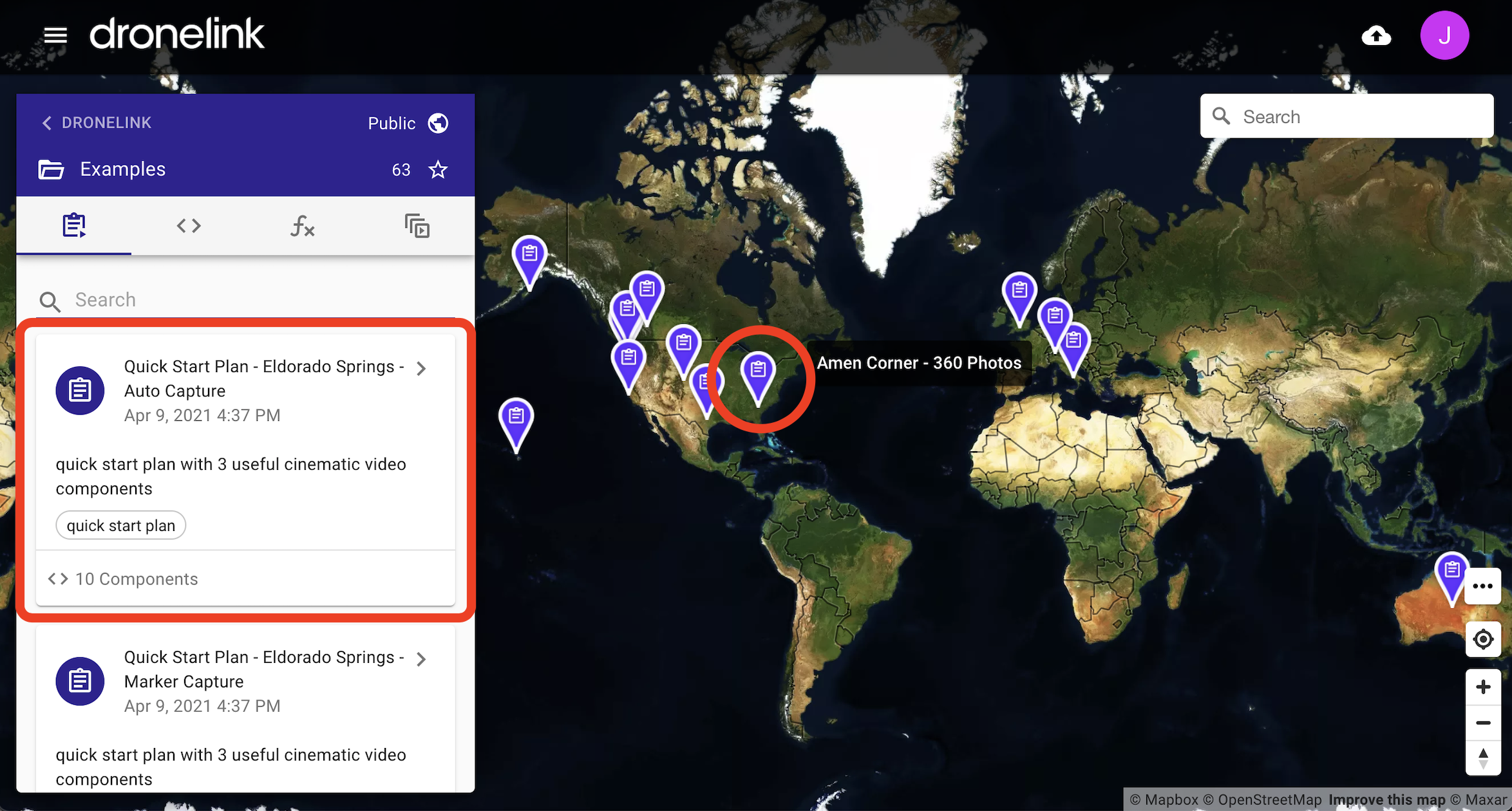 The plan will open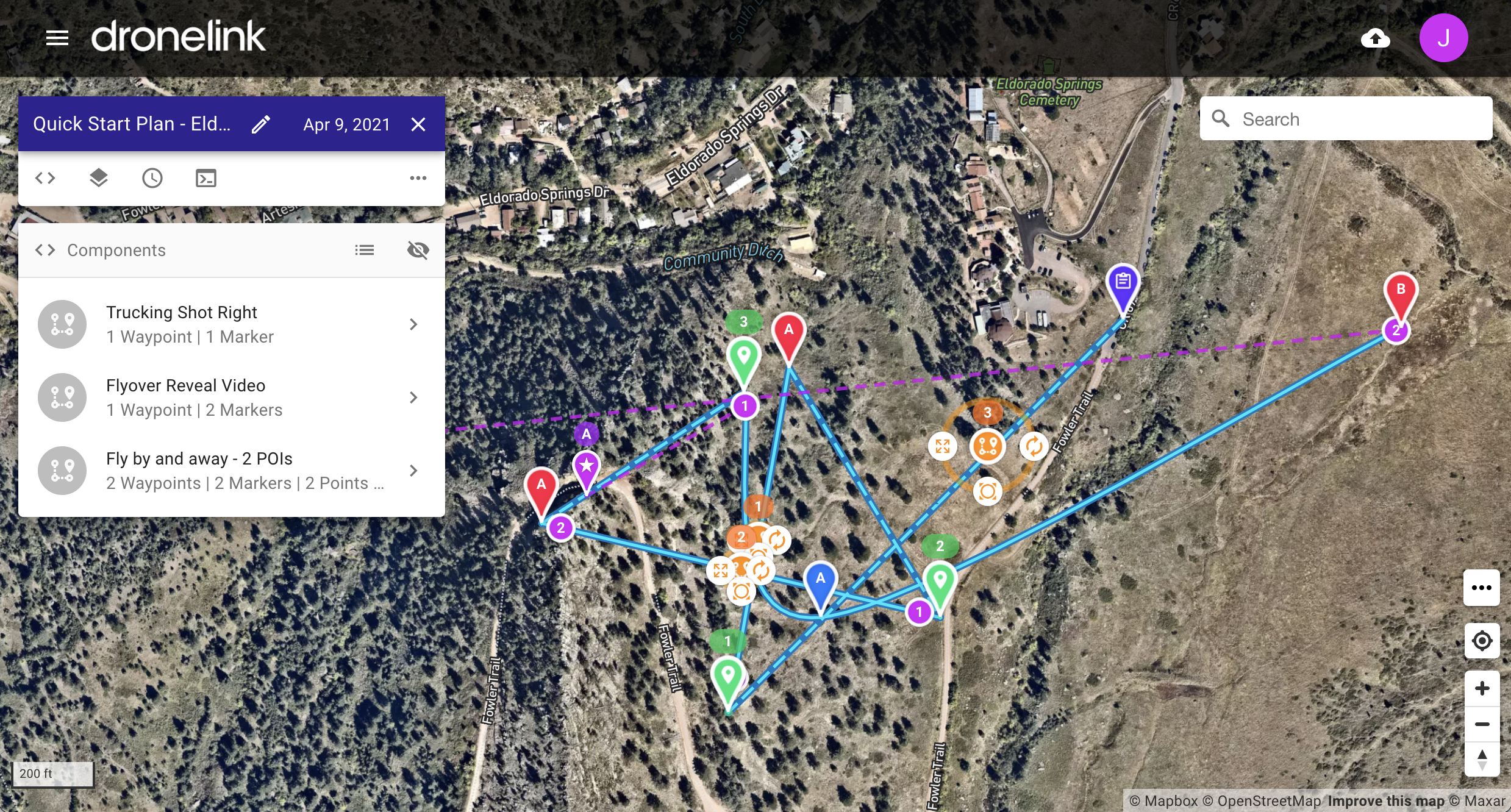 Learn how to copy a public mission plan into a new location within your account here.
Step 4 - Open Any Public Repository and Plan
Zoom in to your area of interested or a cluster on the map, and select the purple dot to see the public repository name and number of plans within it.
Select the repository name to open and access the mission plans just like above: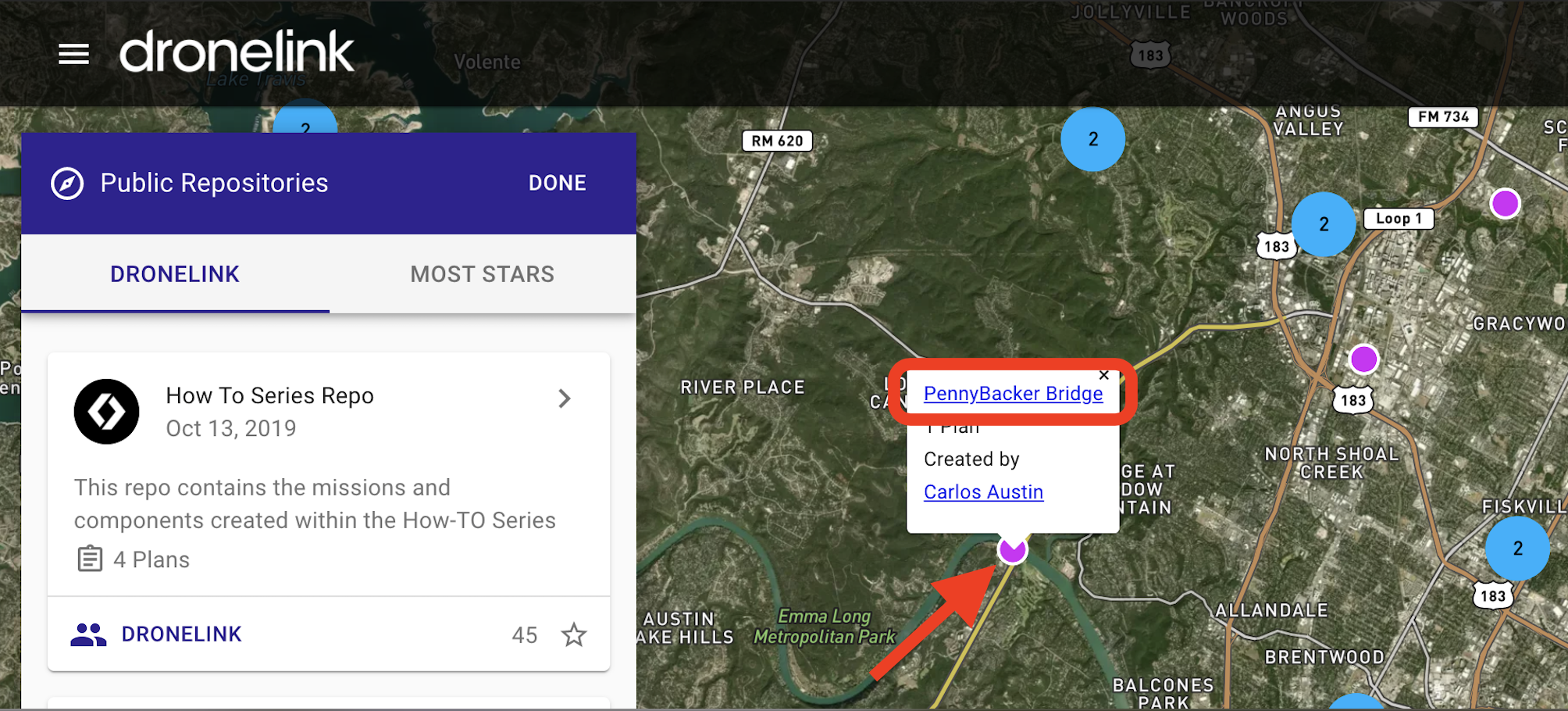 Beyond the Basics
Learn how to explore public components to use within your missions, or public functions.
Step 5 - Explore and Open Public Components
Components are parts of a mission that can be easily reused between missions plans.
Some Public Repositories only have components, such as the Dronelink Flight Paths repository.
Learn about understanding a waypoint mission and components by reading Understanding a Waypoint Mission.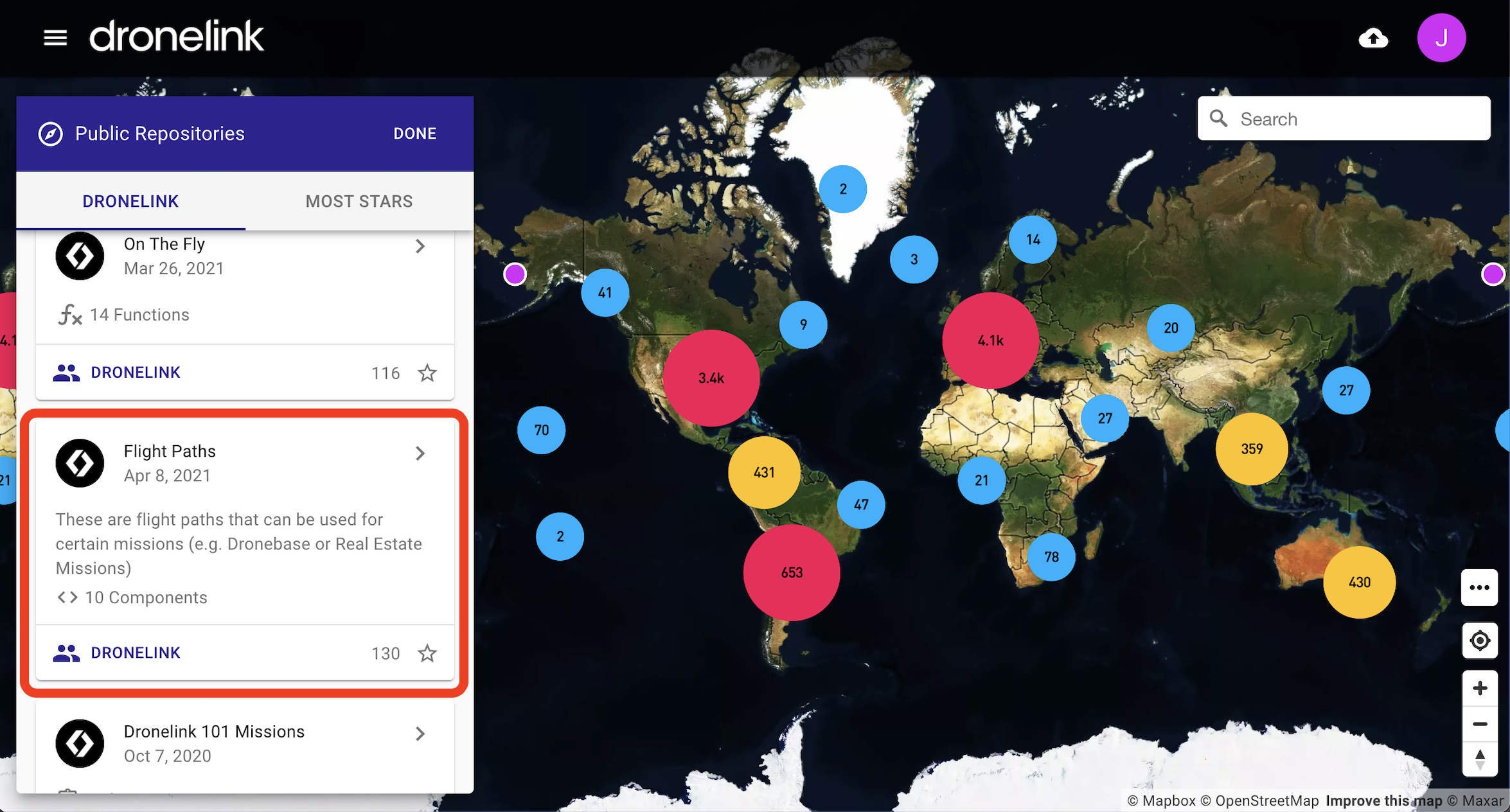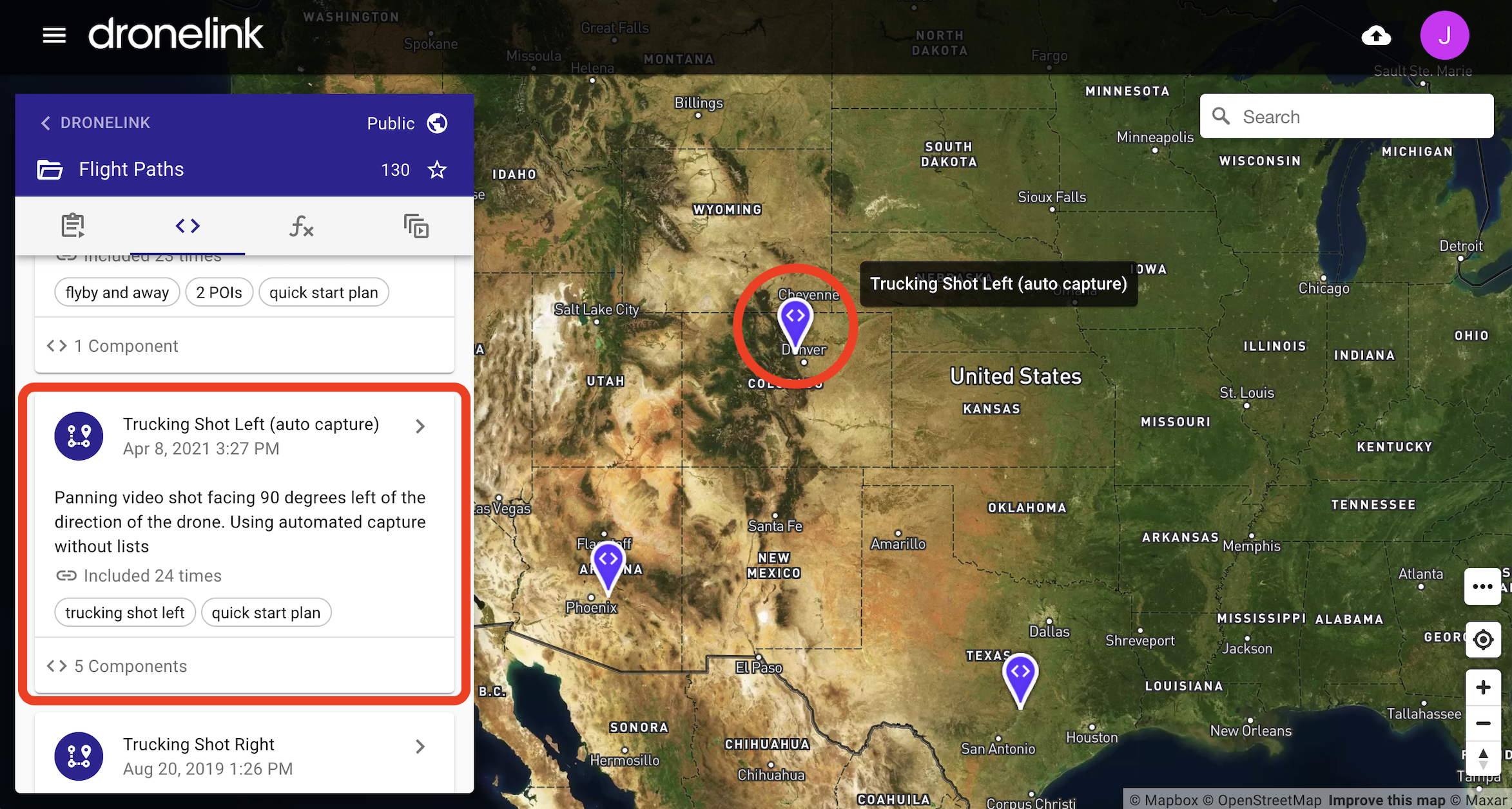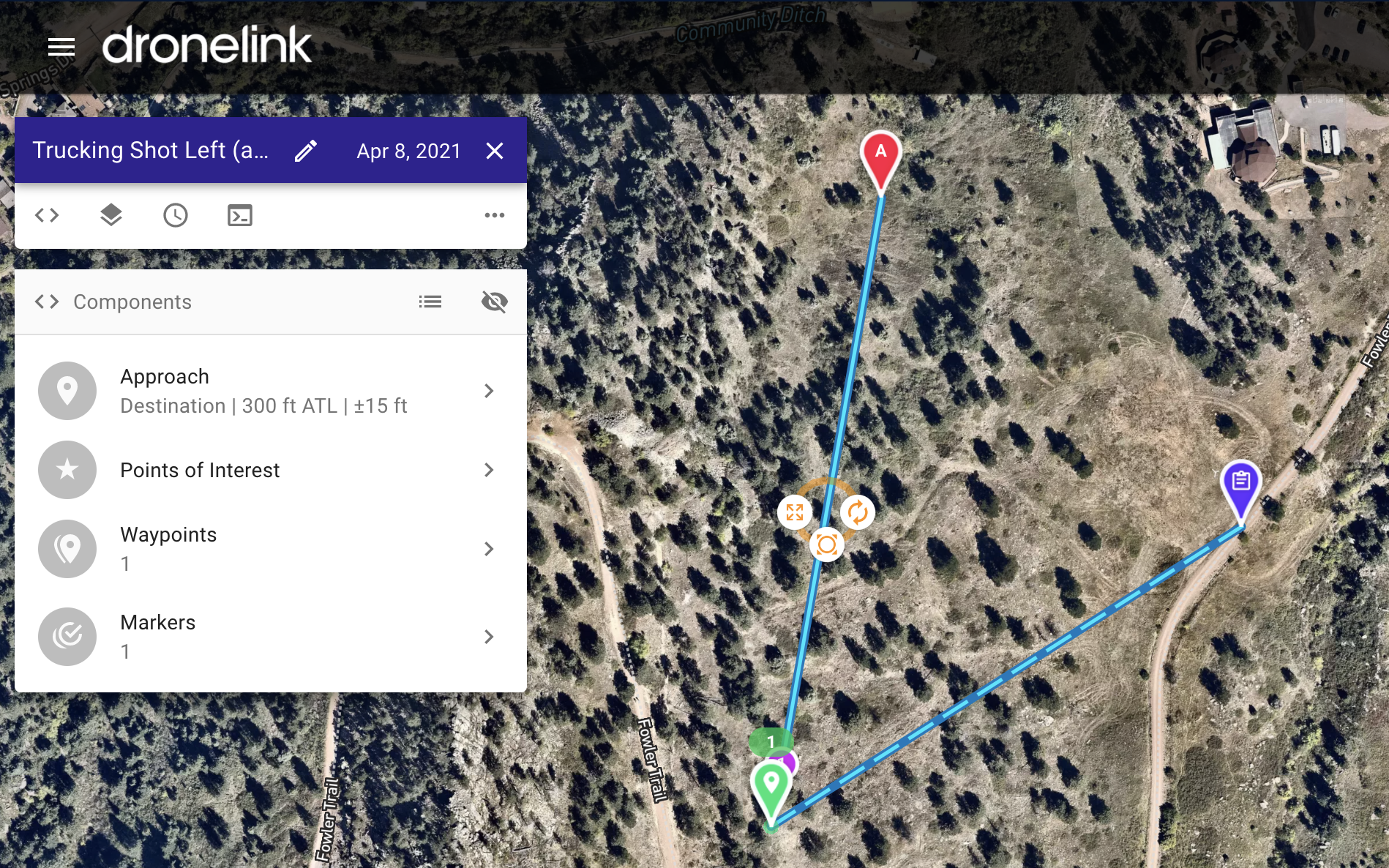 Step 6 - Access Public Repository Components when Mission Planning
When adding a New Component to a mission plan, you can Select to Include from a Repository.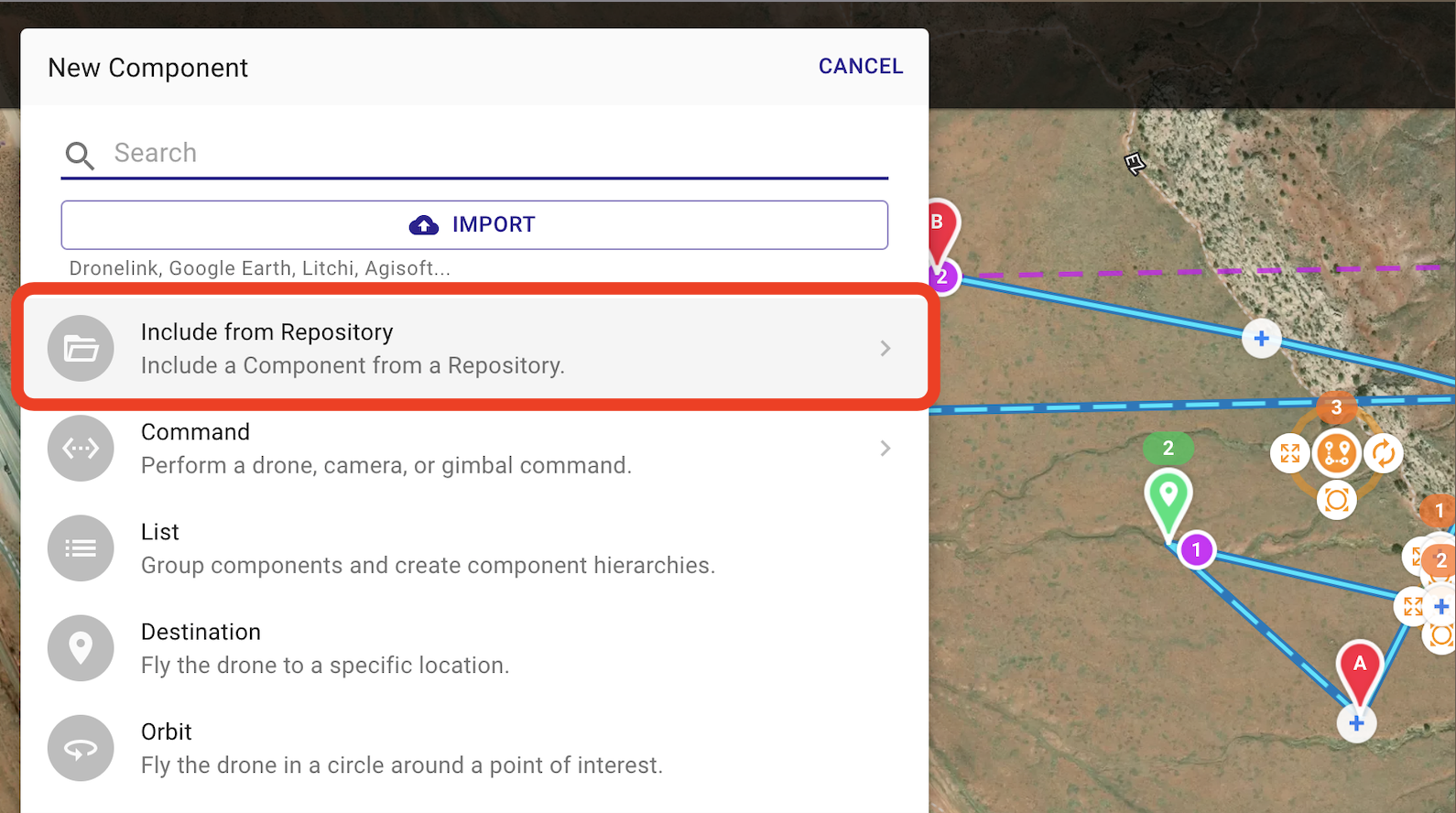 Select Show all from Dronelink
Select a public component from the list to add into your mission plan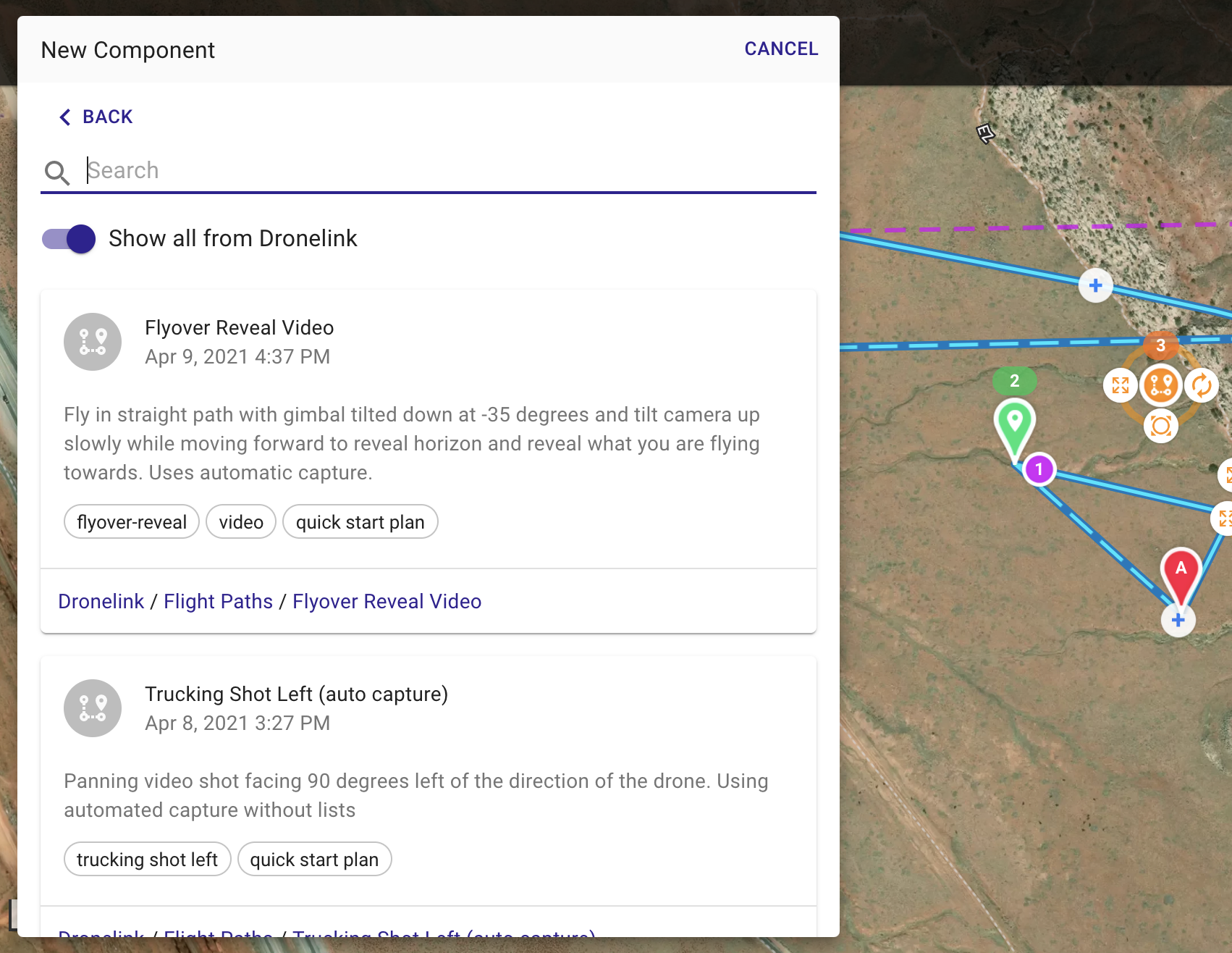 Scroll down and Select Explore Pubic Repositories to find more.

Step 7 - Access Public Repository Functions
Functions are missions that can be generated on-the-fly functions, where a step-by-step wizard walks you through setting up the mission directly in the Dronelink mobile app at the location you are at, with no web app mission planning required.
Some Public Repositories only have functions, such as the Dronelink On-the-fly repository. Some functions are included in your account by default. Advanced users can customize and create their own functions.
Get starting by using a On-the-fly Path Mission or test one with a simulated drone in the web app.